Truth is stranger than fiction, but it is because Fiction is obliged to stick to possibilities; Truth isn't – Mark Twain
Setting the record straight on facts of the case on which the excellent fictionalised drama "Stateless" was loosely based.

Media and journalists remain an essential independent mechanism in an unregulated detention system where only recommendations can be made by HR agencies. These have no regulatory capacity only advisory. Media pressure is all there is to engage Australians to pressure political reps. Media provides truth and facts in a policy area defined by secrecy and misinformation.

Admitting and retaining mentally ill people in detention continues – last year a Canadian woman suffering dementia locked up for months! Released after fellow detainees and advocates raised her case in media

Pamela Curr
26 April 2020
__oOo__
Questions the TV series 'Stateless' left unanswered
Inspired by a true story, Stateless is a drama about four people and how their lives converge at an immigration detention camp in the desert.
It's true that Stateless acknowledges at the start that it is "inspired" by real events — the message being that it will pick and choose from those events in late January 2005 for its drama. That it did most powerfully and emotionally through the side stories and dilemmas of its detention centre staff, refugee and bureaucrat characters. However, it didn't stray too far from reality with its main character, Sofie, so obviously drawn along the lines of Cornelia Rau.
A former Qantas flight attendant and Australian permanent resident (not a citizen, as the series has it), Rau was scandalously found to have been lost inside Queensland's prison system and then immigration detention. She spent a total of 10 months incarcerated without her worried family having any idea where she was or the authorities discovering who she was.
The disoriented and traumatised Rau refused to communicate, giving the impression before her arrest in far north Queensland that she was a German backpacker who might have overstayed her visa.
Stateless draws very closely on this trajectory and Rau's family dynamics in its depiction. But it is the fictionalised sister of Sofie who finally tracks her down and fronts the detention centre to rescue her sister.
In reality, it was reporting of the international search to discover the identity of a mystery woman in immigration detention that allowed the Rau family to find their missing daughter and sister. That story was published on January 31, 2005, in The Age and The Sydney Morning Herald.
By writing out the role of the media and, for that matter, refugee advocates, the series does a disservice to the media and the network of professionals and volunteers who worked tirelessly to draw attention to the plight of those stranded in detention. [WBT emphasis].
Concerns about a disturbed woman in South Australia's Baxter detention centre were first mentioned to me by a psychiatrist, Dr Louise Newman, from the Alliance of Health Professionals for Asylum Seekers.
The woman, known only as "Anna" and speaking some German, was displaying signs of mental distress.
At that time, Baxter was a hotbed of unrest, with up to 27 Iranian asylum seekers on a hunger strike over the government's denial of their claim to be refugees. At least two had sewn their lips together, while three staged a rooftop protest. That was mid-December 2004. Any mention of an ill backpacker in detention would have been just a footnote on another story.
While on holidays that January, I received phone calls from refugee advocates alerting me to Rau's deteriorating state. They had found out she was being held in isolation and that she had by then been in Baxter for nearly two months.
These advocates — chief among them, Pamela Curr, from the Asylum Seeker Resource Centre, and Project SafeCom Inc's Jack Smit — tried to sound the alarm, telling the department that Rau shouldn't be in detention. They also tried to discover where she was from.
Back at work, I learnt that her situation had moved from being yet another refugee story to an international mystery.
Interviewing the then German consul-general in Melbourne, Thomas Kessler, I was shocked to hear that when he was brought in to identify "Anna" months earlier, she had been in the Queensland prison system. The consulate spent three months trying to identify her without success. Without that international aspect and all the efforts from advocates behind the scenes that led to it, Rau might well have languished in detention for much longer.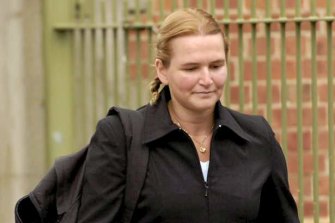 It was the media that exposed many other cases of wrongful detention. It was the ABC with its then extensive coverage in Asia that tracked down the ill and impoverished Australian woman Vivian Alvarez Solon in the Philippines after she had been illegally deported in 2001.
Among the other reservations I have about the Sofie character is that during her time in Baxter, Rau was reportedly in a catatonic state. She was in no condition to champion other refugees or join an escape, as the Sofie character does. In fact, it was people from other cultures demonised as "queue jumpers" by the then Howard government who recognised Rau's vulnerability and urged the detention guards to get help for her.[WBT emphasis].
Part of the scandal about Rau's treatment is that a mentally ill person – something Stateless fudges, returning instead to her negative experiences with a self-transformation group, one of its principals played most effectively by Cate Blanchett – was thrown in jail and then into immigration detention.
This also happened to a homeless member of Sydney's Hillsong Pentecostal street choir, a man known then as Harrison Eva, and it was the fate of a number of Vietnamese asylum seekers snatched off the street by police in Sydney. In 2006, the Commonwealth Ombudsman reported on the case of "Mr T'', a homeless, mentally ill Vietnamese man arrested for stealing or loitering. He ended up in immigration detention three times even though he was an Australian citizen.
Rau's ordeal came about after she escaped from a psychiatric institution because she was unable to tolerate being confined and the medication she was required to take.
I don't know if her reported diagnosis of schizophrenia is correct. What concerns me and is the real issue at the heart of her saga is that she fell between the cracks because despite all our medical advances, people given that diagnosis often find the medication worse than any mental torment they are suffering. There is still no answer to that.
Rau's ordeal and that of "Mr T" and others came about because they refused or were unable to give their identity. Surely, there are ways to establish someone's identity other than holding them in immigration detention. The Rau case highlights the need to streamline this process. She was detained as long as she was because of inadequate medical and psychiatric services for detainees and because detention can be indefinite. These issues remain with four asylum seekers who have currently been detained for 10 years or more.
Andra Jackson is a freelance journalist who reported for The Age between 2000 and 2011.
This article appeared in the SMH @ https://www.smh.com.au/culture/tv-and-radio/questions-the-tv-series-stateless-left-unanswered-20200423-p54mhj.html