One of our readers is concerned about Israel's close military ties to Australia. He writes: This is what we have to combat! Australia is up to its neck in complicity with terrorist apartheid Israel. IDF Palestinian child killers are living amongst us. Border Force urgently needs to impose the strongest possible vetting for all Israeli visa applications and ASIO needs to track down those already here so they can be booted out." Here is the article to which he refers.
__oOo__
Israeli Foreign Minister Yair Lapid has opened the door to deepening security ties with Australia and the Five Eyes spying network to counter Iran's cyber attacks and combat terrorism.Mr Lapid said Australian law enforcement agencies now had the opportunity to hunt Hezbollah's global terror network after the Morrison government last month declared the Lebanese group a terrorist organisation.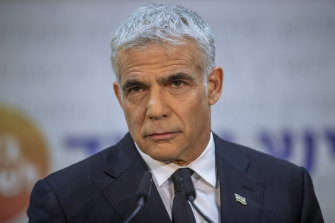 In an exclusive interview with The Sydney Morning Herald and The Age, Mr Lapid said Israel was "very interested in deepening our ties with Australia and with all countries in the Indo-Pacific".
Mr Lapid said striking a free trade agreement with Australia was also a priority which would "expand trade and help create jobs in both our countries", and floated the prospect of direct flights between the two countries.His comments suggest that Israel wants to become more relevant in the Indo-Pacific region amid escalating tensions between China and the United States.
In recent years, there have been calls from many national security experts for an expansion of the Five Eyes spy network – which includes Australia, the United States, Britain, New Zealand and Canada – with Japan and Israel named as potential additions.
Mr Lapid said Israel already had extensive ties with Five Eyes nations, including an "incredibly close intelligence-sharing and security partnership with our closest ally, the United States", but would look to deepen the relationships.
"We're focused on continuing to deepen these ties through their existing frameworks and agreements, and we would consider any other options for expanding these ties should they present themselves," he said.