In the late 1970s we used to stop trains delivering uranium at Hamilton No 4 wharf in Brisbane by sitting on the railway tracks … actions made possible and safe by railway workers and wharfies … we went around the unions asking wharfies and seamen for help … they used to stop work when we got on the wharves saying it was not safe to load the uranium while we were on the wharves.
Uranium-235 has a half-life of 703.8 million years and is the only isotope occurring in nature that is fissile (can be put straight into the nuclear fuel cycle with little treatment required). In the end the Australian parliament voted for a three mines policy allowing uranium to be mined & exported. That Uranium-235 ended up in depleted uranium shells in Iraq, in the melt downs in Chernobyl and in Fukushima causing untold harm for people now and generations to come. To use modern parlance, you could say it was and still is an existential threat.
I spent 8 years in the courts defending charges arising from actions trying to stop the government, was jailed on three occasions and slammed in the watchouse on over 30 occasions. I lost more than one job for my troubles.
At that time over 3,000 people in Brisbane participated in the longest period of mass defiance of a government in Australian history (with the exception of aboriginal resistance). Truth is a lot of the time we didn't know what we were doing or what forces we were up against. But I would do it all over again if I thought we had half a chance of success. But we should be careful where we point the finger of blame, the most unlikely people can become our allies. Without the support of workers, the current blockade of coal has little chance of success.
We post the following stories about the coal blockade in the Hunter Valley in the hope that the struggle broadens and becomes part of mainstream resistance against the system that gave us the threat of both nuclear and climate destruction.
The rich are kidding themselves that they will be able to buy their way out of either crisis. In the same way capitalism was unable to deal with the uranium menace, it will be unable to deal with the threat of coal.

Ian Curr,
19 November 2021
__oOo__
Standing up for coal blockade
Last week a couple dozen people who were concerned about catastrophic global warming engaged in a series of impressively high-impact protests around Newcastle, organised under the banner of Blockade Australia.
I say 'high-impact' because they directly interrupted the transportation of coal to the Newcastle port for a solid week, which is pretty massive.However it's interesting that despite being quite sensational and highly disruptive, these protests attracted nowhere near as much media coverage as climate protests that block inner-city streets.
There are a few factors contributing to this, including the fact that activists can't tip off journalists in advance about actions like this, and the locations are less accessible to camera crews. But it's still pretty wild that a series of creative and incredibly strategic actions got so little attention from the mainstream media.
While these kinds of protests are obviously effective at directly disrupting multinational coal companies, because they don't necessarily disrupt the public at large, they perhaps don't generate quite the same level of broader public debate (and thus pressure on the political establishment). I still think they are extremely potent and valuable forms of action. But I think it's a reminder that as a movement we need to be adopting a wide range of tactics, because different kinds of actions are suited to achieving different goals.
Congratulations to these protesters for standing up for the planet and future generations!

(Anyone who feels outraged about a politician congratulating people for engaging in civil disobedience perhaps needs to spend a little more time thinking about just how many billions of lives will be seriously harmed over the coming decades if Australia continues exporting coal)
Jonathan Sri,
BCC councilor for the Gabba Ward in Brisbane.
18 Nov 2021
https://www.facebook.com/jonno.sri/posts/435301294632123
(As an aside, it's pretty ridiculous that Barnaby Joyce seems to have been the main interviewee in this ABC story (below)… the guy is detached from reality and routinely distorts and misrepresents the truth – journalists arguably shouldn't be publishing comment from him unless they also interview relevant experts or other politicians who can fact-check his claims).
__oOo__
Coal export protesters blasted by Barnaby Joyce
with claims of $60 million lost in exports in past 10 days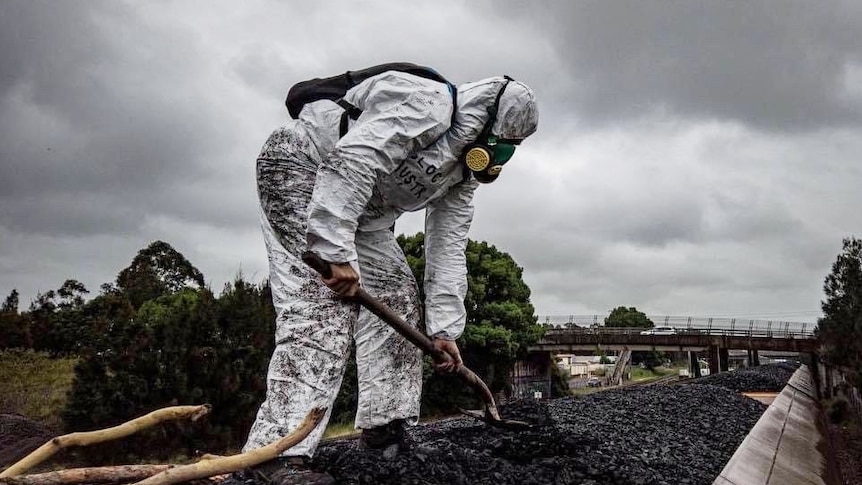 Coal trains have experienced disruptions entering the Port of Newcastle for eight days
Sixteen environmental activists have stage various protests including laying on train tracks
Deputy Prime Minister Barnaby Joyce says each coal train is worth $1million in exports
"This government will not tolerate protesters undermining commuter activities and causing significant damage to these local industries which employ people from across the region," NSW Police and Emergency Services Minister David Elliott said.
'We've got to make a buck' – Barnaby Joyce
ABC Rural / By Amelia Bernasconi
Posted Mon 15 Nov 2021 at 1:32pmMonday