"The most effective way to destroy people is to deny and obliterate their own understanding of their history." George Orwell
"Semites are people who speak Semitic language, so really "Anti-Semitism" should be defined as "fear or dislike of people who speak Semitic languages.
Semites are speakers of Semitic languages and this term was coined by German linguists – Semitic languages included Arabic, Hebrew, Aramaic and some other languages of Africa and Asia.
Mizrahi is Hebrew for "easterners" and Jews from Yemen, Iraq and countries further east like India and China are called Mizrahim. Jews from Palestine, Syria, Turkey, Greece, Italy, Spain and North Africa are called Sephardim because their religious customs differ from those of the Mizrahim and Ashkenazim.
Sepharad is the Hebrew word for Spain and at the time of the Spanish inquisition Jews and Moors had to leave Spain and settled all around the Mediterranean Sea. Ashkenaz is the Hebrew word for Central Europe and Ashkenazic Judaism developed in Europe different religious customs and literature from the Mediterranean and eastern Jews. " Ray Bergmann in Khazar = Ashkenazi Theory Has No Basis, 2016.
__oOo__
When I was growing up in the 1960s I used to work as a caddie on weekends at the St Lucia golf course in Brisbane's affluent western suburbs. I would carry the golf bags of doctors, judges and lawyers around the beautiful, members-only, privately run, 18-hole golf course. I didn't know it then but Jewish people were not allowed join (unless they hid their origins). There were a number of exclusive racist clubs like that around Brisbane at the time; so much so that Jewish friends did indeed anglicize their names and disguised their Jewish origins from places like Poland and Hungary, even from their children.
Often my Jewish contemporaries knew little about the origins of their parents who had fled anti-semitism in Europe. These countries were known for their 'pogroms' against Jews. Australia, itself a racist country that has bred hatred and anger against aboriginal people, the first people attacked and murdered under colonial governments. So too, people from the middle east were attacked, for example, Syrians and Lebanese who migrated here in the 19th and 20th centuries. looking for a better life free from wars and occupation, firstly by the Ottomans, then the British and the French and finally by Israel.
Even after the white Australia policy was dropped in the early 1970s, Queensland maintained its racist apartheid laws against aboriginal people called the Acts. Both mainstream political parties supported racism in Queensland and elsewhere when it suited them. Only the Communist Party rejected these policies. So the great Liberal Prime Minister, Bob Menzies, tried to have the Communist Party banned firstly by decree and then by referendum. These moves were narrowly defeated by the Left in the early 1950s but after that there was a steady decline such that attempts to stop Joh Petersen from banning democratic rights in Queensland were defeated until the 1990s when Labor introduced the Peaceful Assembly Act.
It is appalling to read the hypocrisy of Australian governments saying it will rid Australia of anti-Semitism when it seems like only yesterday that they endorsed the very same undemocratic policies that currently exist in Israel, a huge gerrymander for the Jewish vote, massive assistance and supply of arms from the United States and the outspoken practice of apartheid in the Israel itself and the occupation of Palestinian lands in the West Bank and the blockade of Gaza. Israel continues to isolate and name Arab groups as being terrorist when it is the Palestinians who have been the victims of war crimes, breaches of international law and outright terror at the hands of the apartheid state of Israel. But it is also ironic, given the bipartisan support for this new legislation on anti-Semitism when the people putting it forward come from organisations that have a long history of anti-Semitism themselves. The British Labour party has just managed to overcome these slurs of anti-Semitism against their former leader, Jeremy Corrbyn, to pass a motion calling for sanctions against Israel's war crimes.
Only 100 years ago in Queensland, Australia's Worst Union (AWU) brought its own brand of racism against the hard working Syrian/Lebanese (originally from Semitic tribes). In her book A Continuous Thread about Syrian/Lebanese migration to Queensland, Anne Monsour wrote about the AWU's description of her forebears:
"Indeed, in February 1897, the Brisbane Worker (p. 2) described Stanley Street, South Brisbane as 'Syrian town'. These Syrians, who were mostly from the area now known as Lebanon, were described disparagingly by the Worker as 'coloured, towel-capped merchants' who were threatening the livelihood of white retailers and furthermore, had 'evidently made up their minds to stay'. Despite being unwelcome and encountering many obstacles, particularly as a result of the White Australia Policy, these Syrians did indeed stay."
One hundred years on, Australian mainstream parties continue to dress up anti-Semitism as a middle eastern problem when it has been a European problem all along.
It is easy to forget that Mandela was not a man of peace in his homeland ruled by apartheid. Or more accurately, Mandiba believed that we need to fight for justice and therefore, peace. It should be noted that many of his comrades were Jewish. For example Joe Slovo, a communist, was one of the leaders of the ANC (African National Congress). The percentage of white people benefitting from apartheid in South Africa was often underestimated . South Africa's population was about 19% whites, about the same percentage of people who voted for Bjelke-Petersen's own unique brand of apartheid in Queensland. Now Australian governments, themselves beneficiaries of their own colonial settler state over the past 4 or 5 generations, now wish to throw up the smokescreen of anti-Semitism to defend their ally in the Middle East, Israel.
We post the following articles (with highlights) in the mainstream Australian press to illustrate how that smoke screen has been set up.
Ian Curr
15 October 2021
Australia to back international definition of anti-Semitism
By Rob Harris
October 14, 2021 — 3.58pm
Prime Minister Scott Morrison has promised an international forum on anti-Semitism that the Australian government will formally endorse an international working definition of discrimination against Jews as a religious or racial group.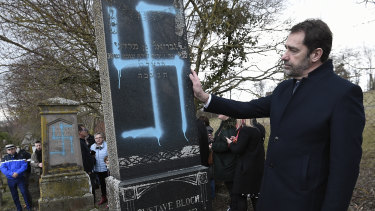 In a pre-recorded message from Canberra, Mr Morrison told the Malmö International Forum on Wednesday evening that his government would embrace the International Holocaust Remembrance Alliance's working definition, joining more than 40 nations and hundreds of local governments, sporting organisations, institutions and universities around the world.
But critics of the definition, including the Palestinian movement and human rights groups, have warned it could be used to stifle legitimate debate about the Israeli government and threatens freedom of speech.
Mr Morrison said Australia would adopt the definition "as a people, and as a nation".
"Anti-Semitism has no place in Australia," Mr Morrison told the forum. "It has no place anywhere in the world. And we must work together, resolutely and as a global community to reject any word or any act that supports anti-Semitism towards individuals, towards communities or religious facilities."
Minister calls on federal government to support international anti-Semitism definition
The IHRA – an intergovernmental body made up of 31 member countries – defines anti-Semitism as "a certain perception of Jews, which may be expressed as hatred toward Jews. Rhetorical and physical manifestations of anti-Semitism are directed toward Jewish or non-Jewish individuals and/or their property, toward Jewish community institutions and religious facilities".
The non-legally binding definition is also supported by 11 contemporary examples of anti-Semitism designed as a resource to help educate people as to what anti-Semitism is, and what is legitimate criticism of Israel.
It has been used by law enforcement around the world to train police to understand when a crime might have an anti-Semitic motive and by universities and schools to identify and intervene against anti-Semitism. Jewish groups also want it to help social media companies to better moderate anti-Semitism on their platforms.
But the definition has its critics, who express concerns it restricts freedom of speech by prohibiting legitimate criticism of Israeli government action in the Palestinian territories. They argue the language is open to interpretation and invites a conflation of the criticism of Israel with anti-Semitism.

Legal experts, including prominent human rights barrister Geoffrey Robertson and the definition's lead drafter Kenneth Stern, have raised concerns that the definition was being used to police speech.
Bishop George Browning, the president of the Australia Palestine Advocacy Network, said the organisation was "deeply concerned" about the Prime Minister's announcement, believing it would muddy the water between legitimate criticism of Israel and anti-Semitism.
"Adopting particular definitions of any sort of racism is unnecessary and in this case, dangerous.
"It has been used to shut down legitimate advocacy for Palestine in other places in the world, and we must not allow this to happen in Australia," he said.
The Australian Jewish Democratic Society has also raised concerns about how the definition is used, warning there are Jewish institutions and groups, both inside Israel and globally, who are committed to tackling anti-Semitism and are highly critical of Israel's treatment of Palestinians, historically and today.
By Anthony Galloway
October 14, 2021 — 2.57pm
A bipartisan inquiry has urged the federal government to list all of Islamist group Hamas as a terrorist organisation after finding its military wing cannot be separated from its political arm.
The powerful intelligence and security committee said the government, which already lists the military wing, the Al-Qassam Brigades, as a terrorist entity, should consider expanding the definition to the whole group.
The move could have ramifications for Australia's consular presence in the Gaza Strip, with Hamas in charge of the self-governing Palestinian territory.
Palestinian activists have raised concerns the development could affect Australia's aid programs and consular support in Gaza and accused the committee of not consulting widely.

The Australian government has listed Hamas's military wing for a number of years but stopped short of proscribing the entire organisation as a terror group.
The Parliamentary Joint Committee on Intelligence and Security tabled a report on Thursday that recommended the re-listing of Hamas's military wing, as well as Al-Shabaab, Lashkar-e-Tayyiba, Palestinian Islamic Jihad and the Kurdistan Workers' Party.
The report also urged the government to "give consideration to extending the listing of Hamas' Izz al-Din al-Qassam Brigades as a terrorist organisation to the entirety of Hamas".
Hamas took over the Gaza Strip after defeating its rival political party, Fatah, in elections in 2006 and has regularly clashed with Israel. The latest conflict, in May, ended in a ceasefire after 11 days of fighting that killed at least 256 Palestinians and 13 people.
Liberal senator James Paterson, who chairs the committee, said it was clear from evidence it considered that the whole organisation of Hamas met the definition of a terrorist organisation.
"Currently, the US, Canada and the EU list the whole organisation of Hamas as a terrorist organisation under their respective proscription regimes," he said. "The expert evidence provided to the committee overwhelmingly rejected the idea that Hamas' Izz al-Din al-Qassam Brigades operates independently from the rest of the organisation."
He said there was agreement among experts that Hamas operated as a singular entity with overlapping personnel, finances and structure.
"In addition, leaders of Hamas have repeatedly made statements which meet the advocacy test for terrorist listing, including direct incitement of acts of violence against Jewish people."

In its submission to the inquiry, the Zionist Federation of Australia said the military wing could not be separated from Hamas.
"Second, even if the false distinction between the Brigades and the rest of Hamas is maintained, the non-Brigades part of Hamas directly or indirectly prepares, plans and assists in the doing of terrorist acts, through recruitment, procurement of arms and finances, and vocal encouragement for the Brigades," the ZFA said.
The Department of Foreign Affairs and Trade, which has a small consular operation of about 10 people in Gaza, raised concerns it would need to make changes if all of Hamas were declared a terror group.
But the review found DFAT's concerns "cannot take precedence over national security and Australia's continuing fight against terrorism".
Mike Burgess, director-general of the Australian Security and Intelligence Organisation, said he would be supportive of expanding the listing of Hamas but noted it would be of no operational benefit to his agency.
Bishop George Browning, president of the Australia Palestine Advocacy Network, said the committee "failed in its duty by discounting government agency concerns about the impact on humanitarian or peace negotiations".
"Additionally they have only sought out evidence from pro-Israeli perspectives and regurgitated this biased information as fact while failing to integrate Palestinian or international law perspectives," he said. "The minister must disregard the committee's report and ensure any decision is informed by experts that do not have a political barrow to push."
Australia/Israel & Jewish Affairs Council chief executive Colin Rubenstein welcomed the committee's recommendation, saying his organisation had argued for many years that Hamas must be treated as one entity.
"All of Hamas has been and remains committed to using terrorism to achieve its ends," he said.

The development comes after the committee in June made a similar recommendation to list all of Lebanese militant group Hezbollah as a terrorist organisation.
The decision to proscribe a terrorist organisation lies with Australia's Governor-General, on the advice of the government, which then criminalises any membership or association with that group. Other groups on the list include Al-Qaeda and Islamic State.